In a thrilling encounter between Sunrisers Hyderabad (SRH) and Royal Challengers Bangalore (RCB) in the IPL 2023, the match reached its pinnacle when Virat Kohli unleashed a breathtaking century.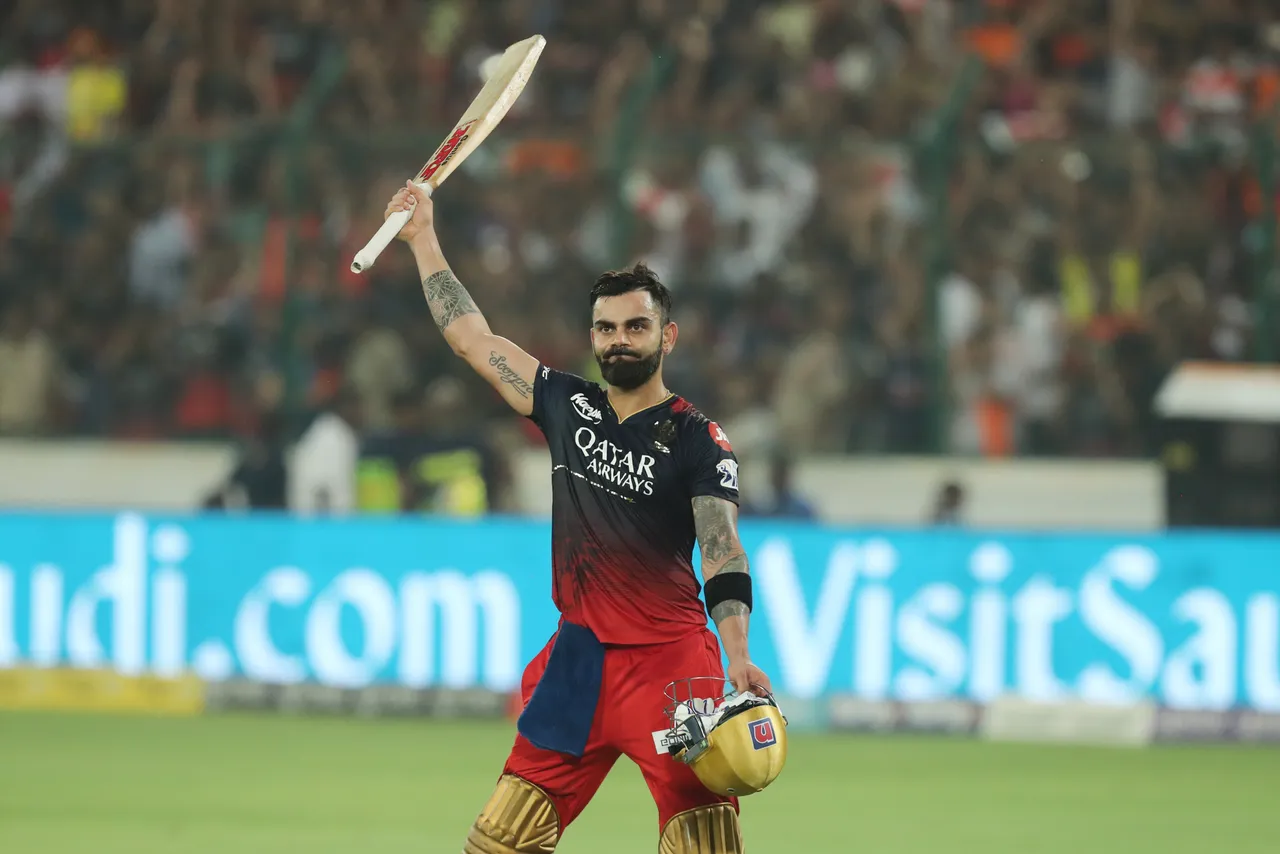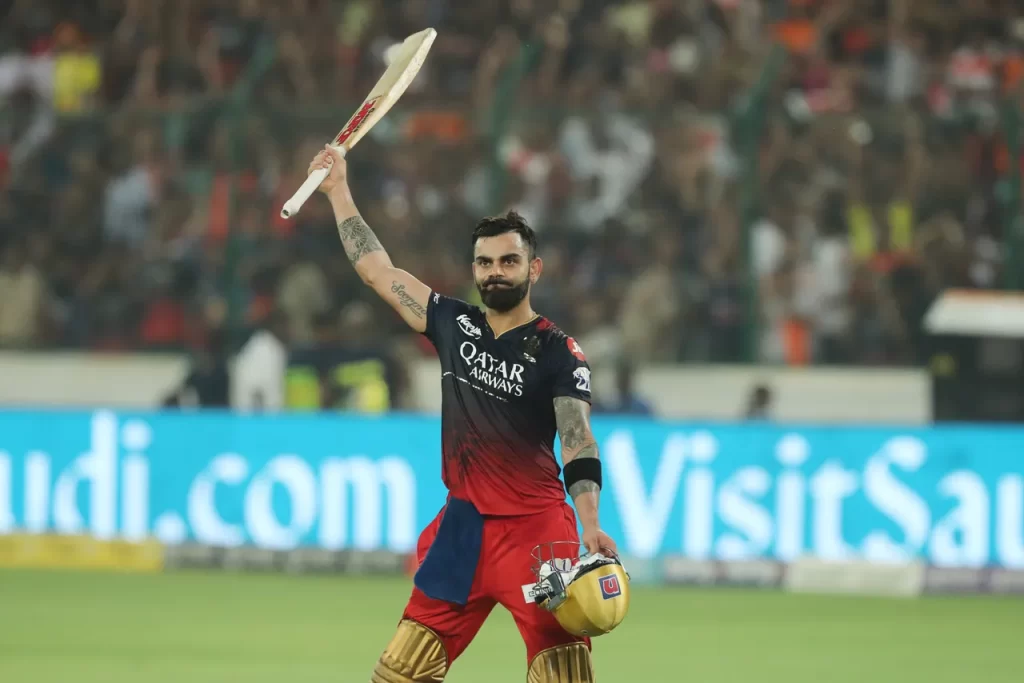 The crowd at the stadium witnessed an exceptional display of batting prowess as Kohli dominated the SRH bowlers with his impeccable timing and skill. This article delves into the memorable innings of the RCB skipper, highlighting his century and its impact on the game.
Virat Kohli's century came in the midst of a crucial chase for RCB. He reached themilestone in style, smashing a six over deep midwicket off Bhuvneshwar Kumar'sbowling. The shot showcased his excellent wristwork and power, sending the crowdinto a frenzy. It was a testament to Kohli's ability to rise to the occasion and deliverwhen his team needed him the most.
Twitter was abuzz with excitement and admiration as cricket fans and pundits took to the platform to express their reactions to RCB's remarkable win, fueled by Virat Kohli's majestic century. Tweets poured in, with fans hailing Kohli's batting prowess and lauding RCB's dominant performance.
Many expressed their awe at witnessing Kohli in vintage mode, appreciating his ability to turn the game around single- handedly. The hashtag #PlayBold trended as fans celebrated RCB's victory and hailed Kohli as the undisputed King of the IPL. Cricketers, past and present, also joined the chorus, with Yusuf Pathan describing it as a pleasure to watch Kohli's masterclass and acknowledge RCB's beast mode.
Twitter reacts as Virat Kohli's Majestic Century Propels RCB to Victory in IPL 2023he Twitterverse was ablaze with love and adulation for Kohli and RCB, underscoring the impact their win had on the fans and the cricketing community as a whole.Virat Kohli's century was a testament to his exceptional batting skills and his ability to read the game.
He showcased his versatility, playing a wide range of shots, including the classic cover drive and an exquisite flick of the wrists for a six. It was a knock that displayed his temperament, technique, and determination to excel on the grandest stage of IPL cricket.Kohli's century had a significant impact on the outcome of the match.
RCB, chasinga challenging total set by SRH, needed a strong start and a solid foundation. Kohli'scentury provided exactly that, propelling RCB to a position of strength and laying thefoundation for a comprehensive victory. His innings instilled confidence in the teamand demoralized the opposition, leaving a lasting impact on the game.
Virat Kohli's century against SRH in IPL 2023 will be remembered as one of the most memorable innings in the tournament's history. It showcased his sheer brilliance, skill, and ability to perform under pressure.
Magnificent 100 by Virat. It was a delight to watch. Of course, somebody somewhere may not be happy 😜@imVkohli @BCCI

— Rajat Sharma (@RajatSharmaLive) May 18, 2023
All rise for the King 👑 what a spectacular innings @imVkohli 💯 a treat to watch! @RCBTweets #RCBvsSRH

— Yuvraj Singh (@YUVSTRONG12) May 18, 2023
VIRAAAAAAAAAAAT💪💪💪

— AB de Villiers (@ABdeVilliers17) May 18, 2023
All of us when Virat Kohli smashed his sixth IPL century.

📸: IPL#IPL2023 #ViratKohli #AbdeVilliers #SRHvsRCB pic.twitter.com/n51Cj2F6hZ

— CricTracker (@Cricketracker) May 18, 2023
RCB fans drop a "❤️" for Virat Kohli's masterclass in a must win game.#RCBvsSRH #ViratKohli𓃵 pic.twitter.com/Bn0nopmKTy

— Vishwajit Patil (@_VishwajitPatil) May 18, 2023
The way Virat Kohli never misses to thank his Dad every time, in his every achievements ❤️ pic.twitter.com/ngYWSIKQmW

— Pari (@BluntIndianGal) May 18, 2023
Virat Kohli against SRH:

2022 – 0 (1) and 0 (1).

2023 – 100 (63).

– King Kohli returns in a grand fashion! pic.twitter.com/MPm2VVRFTD

— Mufaddal Vohra (@mufaddal_vohra) May 18, 2023
Only Virat Kohli fans are allowed to like this pic.twitter.com/8OtjezEE1h

— leisha (@katyxkohli17) May 18, 2023
18th May 2016 – Virat Kohli smashed an IPL century with stitches.

18th May 2023 – Virat Kohli smashed an IPL century in a virtual knockout match. pic.twitter.com/SmFdt5HpCr

— Mufaddal Vohra (@mufaddal_vohra) May 18, 2023
Virat Kohli
For Money For Country pic.twitter.com/FcgrWaxABK

— Kevin (@imkevin149) May 18, 2023
The century celebration by Virat Kohli.

Take a bow, King! pic.twitter.com/DJ4IxSOWIW

— Mufaddal Vohra (@mufaddal_vohra) May 18, 2023
The century not only propelled RCB to victory but also added another feather to Kohli's cap, solidifying his stature as one of the greatest batsmen in the IPL. Cricket enthusiasts and fans alike witnessed a truly special innings from King Kohli, leaving an indelible mark in their hearts and minds.