The IPL 2023 final between Chennai Super Kings (CSK) and Gujarat Titans was a thrilling encounter that kept fans on the edge of their seats. In a rain-affected match, CSK successfully chased down a target of 171 runs in just 15 overs to claim their fifth IPL title.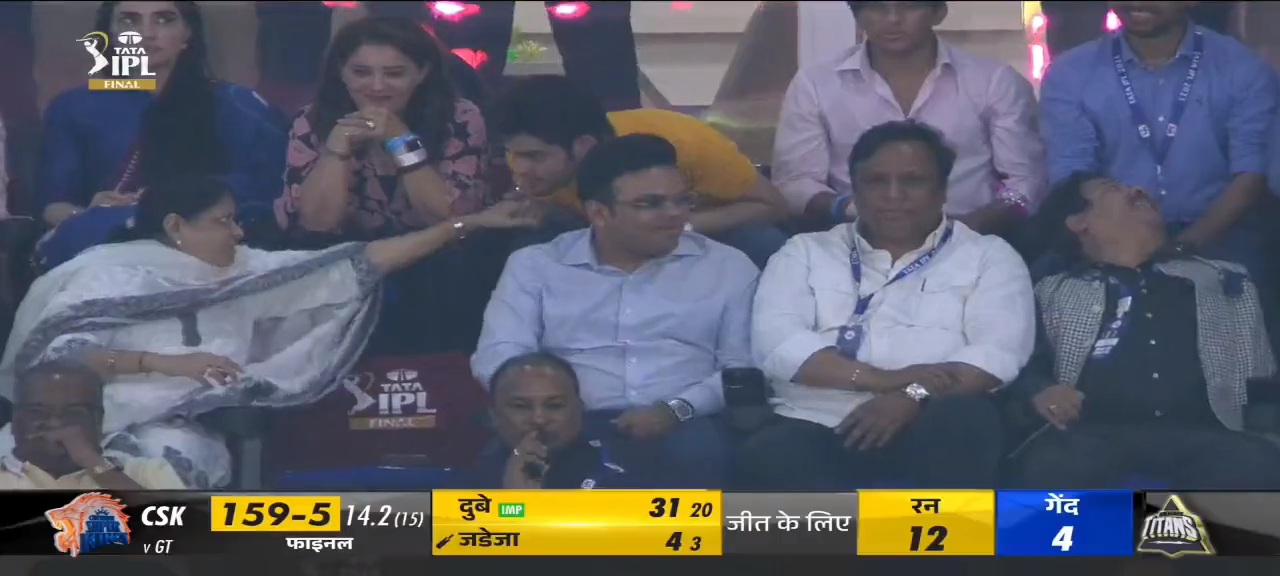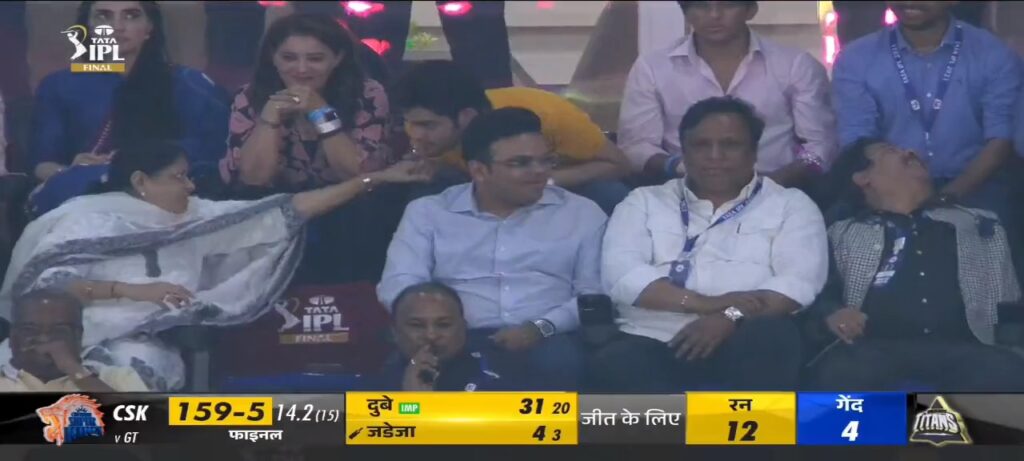 Amidst the excitement, a viral moment involving BCCI secretary Jay Shah added an extra dose of amusement to the showdown. As the first innings concluded, rain interrupted the game, forcing a reduction in overs.However, the CSK team, led by the iconic MS Dhoni, exhibited exceptional cricketing skills and determination during their chase. Requiring 171 runs in just 15 overs,CSK's players displayed remarkable aggression and resilience to achieve their target.
One of the standout performers in CSK's chase was the dynamic all-rounder, Ravindra Jadeja. In a breathtaking display of power hitting, Jadeja single-handedly demolished the opposition's hopes. With ten runs needed off the last two deliveries, Jadeja unleashed his skills, smashing a six and a four off Gujarat Titans' bowler Mohit Sharma.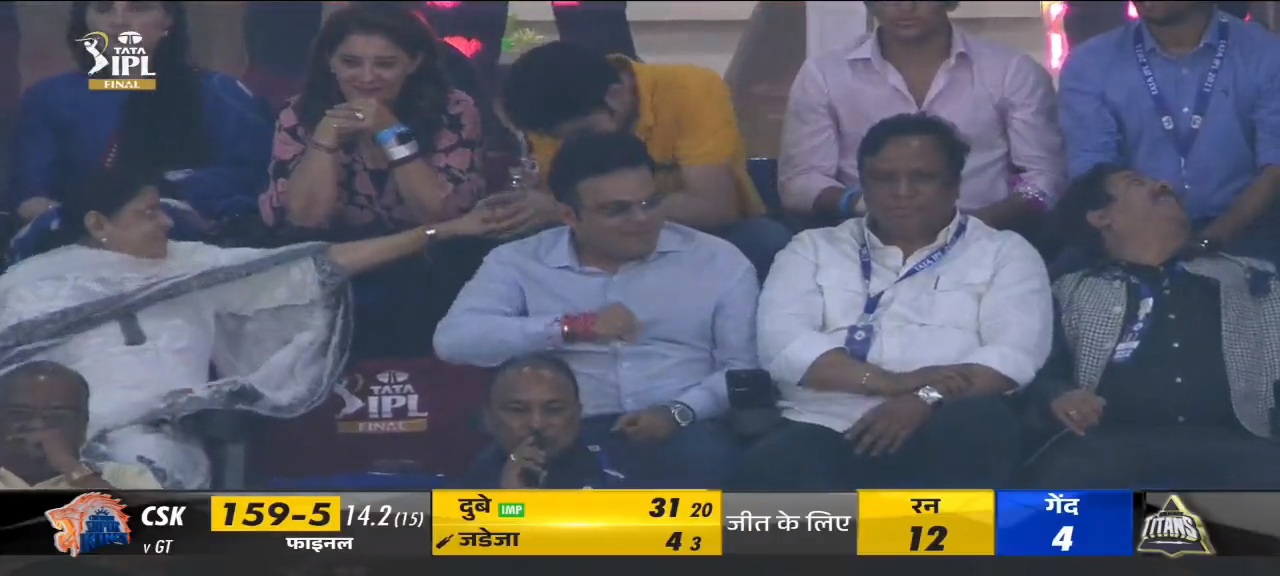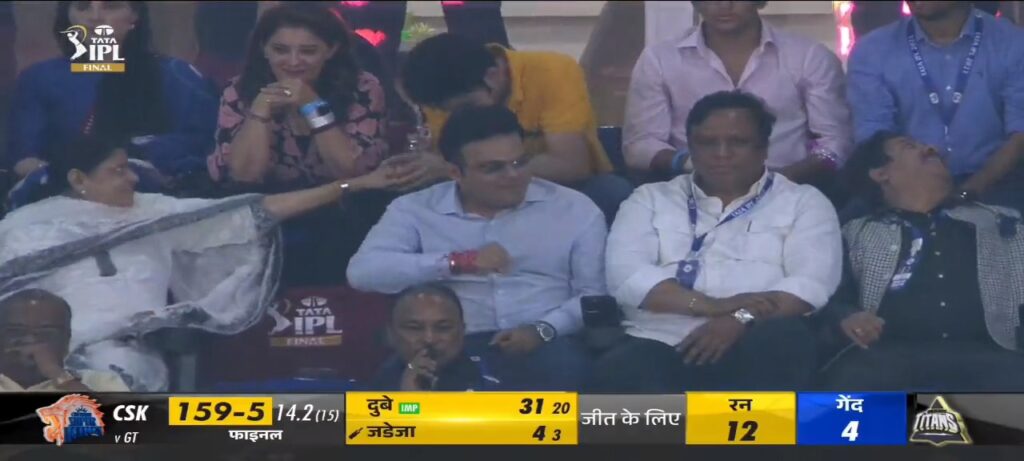 His incredible performance ensured a glorious victory for CSK, securing their fifth IPL title.While the game reached its thrilling climax, BCCI secretary Jay Shah inadvertently stole the limelight with a hilarious hand gesture. Shah was captured on camera signaling that the "batter will now hit," showcasing his anticipation and excitement.
The image of his amusing gesture quickly went viral on various social media platforms, sparking a wave of memes and humorous comments.Social media platforms were inundated with posts and tweets about Jay Shah'scomical hand gesture during the IPL 2023 final. Fans and cricket enthusiasts alikecelebrated the incident, adding to the overall euphoria surrounding CSK'smomentous victory.
Memes and funny captions flooded the internet, making JayShah's gesture an instant sensation.Amid the viral frenzy, many fans and followers of the IPL expressed their congratulations to Jay Shah for CSK's first IPL trophy under his tenure as the BCCI secretary. Recognizing his contributions to the sport and his efforts to make the tournament a success, fans applauded Shah's involvement and support throughout the season.
The IPL 2023 final between CSK and Gujarat Titans provided cricket fans with an exhilarating display of skill and excitement. Amid the thrilling chase, BCCI secretary Jay Shah's amusing hand gesture captured the attention of viewers and went viral on social media.
This was the reaction of this man Jay Shah(Amit shah's son, BCCI Secretary), when CSK needed 11 runs in 3 balls.

And rest is History, We won from here 🏆😅⚔💛 pic.twitter.com/Xb3BscltRS

— M. S. Dhoni Super Fan 💛⚡ (@MSD7SuperFan) May 30, 2023
Ladies and Gentleman: Introducing Jay Shah
1) The son of the Home Minister of India
2) Honorary Secretary of BCCI
3) President- Asian Cricket Council

If this is the gesture of such a guy, Sakshi Malik and Vinesh Phogat should not expect anything further.

SHAME SHAME SHAME. pic.twitter.com/ObPC1OE0Uh

— Soumyadipta Roy (@soumodiptoroyy) May 29, 2023
The incident added an extra layer of entertainment to the showdown, and as CSK clinched their fifth IPL title, Jay Shah received congratulatory messages for his team's success. The moment will be remembered as one of the memorable highlights of the IPL 2023 season.