The cricketing world is full of funny moments as far as the times ever since the social media has evolved are to be taken into consideration. Several moments taking place with regard to the game from all corners of the world have drawn the attention of several netizens in the recent past and even before that.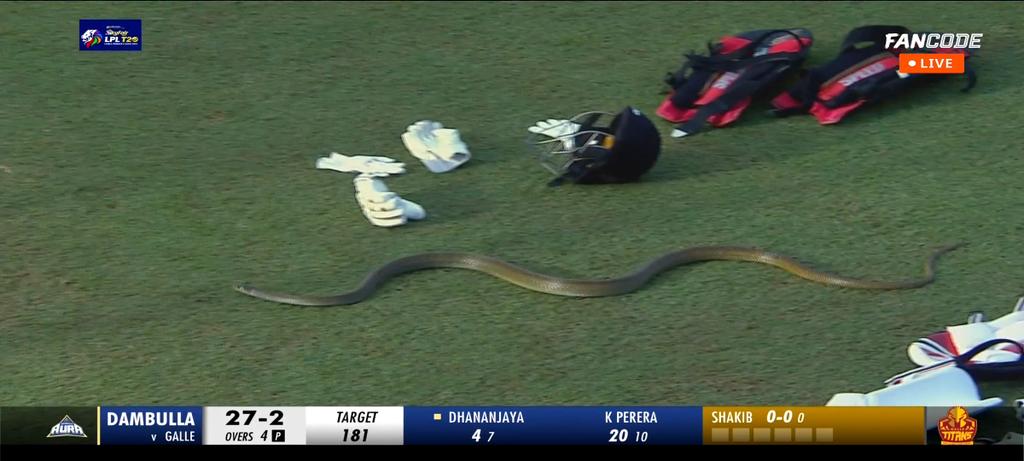 Be it some moments on or off the pitch, a random banter related to the game etc, netizens have always seemed to be able to spot some thing or the other on the internet that has been regarded as an eye catching topic. Recently a similar incident that took everyone by surprise on the internet saw Dinesh Karthik make an amusing tweet regarding an incident which took place in the Sri Lankan T20 league.
The game that is being played between Dambulla Aura and Galle Giants today at the Sri Lankan premier league was in progress. It was after the fourth over of the second innings that the game had to be halted. The disturbance had not been created due to some sort of weather disturbances, but due to a snake that had entered the pitch.
The news started being posted be several people on social media platforms.CrickCrazy Johns too made a post on Twitter with regard to this incident that had occurred midway between the match. Dinesh Karthik reacted to this by quoting this tweet with some of the words that he had to say in this regard.
Dinesh Karthik's post read "The naagin is back! I thought it was in Bangladesh". This tweet from Karthik relates back to an incident which took place back in the year 2018 in the Nidahas trophy final match between India and Bangladesh. India had defeated Bangladesh to lift the trophy against the odds as Bangladesh were totally outplayed to everyone's surprise.
The naagin is back

I thought it was in Bangladesh 🤣😂🤣😂🤣#naagindance#nidahastrophy https://t.co/hwn6zcOxqy

— DK (@DineshKarthik) July 31, 2023
Dinesh Karthik was the hero for India as he had snatched victory from the jaws of defeat for his side. The right hander smashed a 6 with 5 needed off the last ball to seal the win for India. In this manner, India were able to curb Bangladesh's hopes of performing the naagin celebration which was being done by several players of their team during that period in order to mock their opposition team.