The ICC cricket World Cup 2023 is all set to begin with a lot of pomp and show. The tournament will be providing the giant cricketing nations from all across the globe to prove their worth on the biggest stage and have a shot at winning the most prestigious trophy on the planet. The cricket fans from various parts of the world will be able to witness the highest quality of the game for the first time in four years. The captain's day event was held one day prior to the commencement of the competition once again just like the previous editions of the tournament.
The event involved several incidents that took everyone by surprise. The netizens once again did their part by turning those incidents into viral moments on the internet. One such incident involved Jos Buttler seeking Babar's assistance in order to try and understand Rohit Sharma's response to a question that was asked during the event. The event saw several fans and also journalists ask questions to the captains of all ten teams with regard to the game and the competition in particular.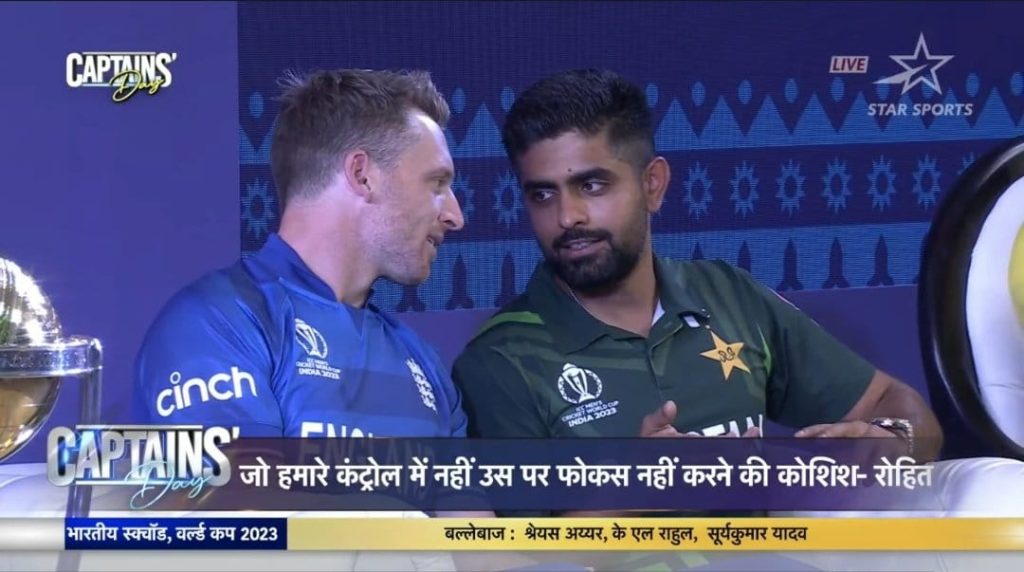 Amidst several questions, one was asked to Rohit Sharma by a journalist. Rohit was asked as to what his opinions were about the final of the 2019 World Cup between England and New Zealand and if both the teams should've been declared as joint winners after the game ended as a tie after a total of 50 overs of play in both the innings. Rohit's response (in Hindi) was that of disgust as he responded to it by saying that,"I am no one to adjudge any team as the winner or loser in a given particular match".
Just as Rohit was done with answering the question, Jos Buttler was seen talking to Babar Azam almost instantly in an attempt to try and figure out as to what Rohit's response was. Babar Azam who's Pakistan's skipper for the upcoming World Cup was urged by Buttler to translate Rohit's response to the journalist in English.
The World Cup shall kick off from today onwards as ten teams shall be battling it out on the cricket field to lift the prestigious trophy this year. The opening game shall be played between England and New Zealand at the Narendra Modi stadium. It remains to be seen as to which of these sides eventually goes on to lift the trophy on the 19th of November.