In a high-octane match between RR and SRH in the IPL 2023, Jos Buttler fell agonizingly short of his century as he was dismissed for 95 runs by Bhuvneshwar Kumar. The dismissal was a result of a brilliantly executed yorker/low full toss by Kumar, which left Buttler clueless and hit him plumb in front of the stumps. Initially not given out by the umpire, Bhuvneshwar immediately went for a review, and the replay confirmed that the ball was hitting the stumps.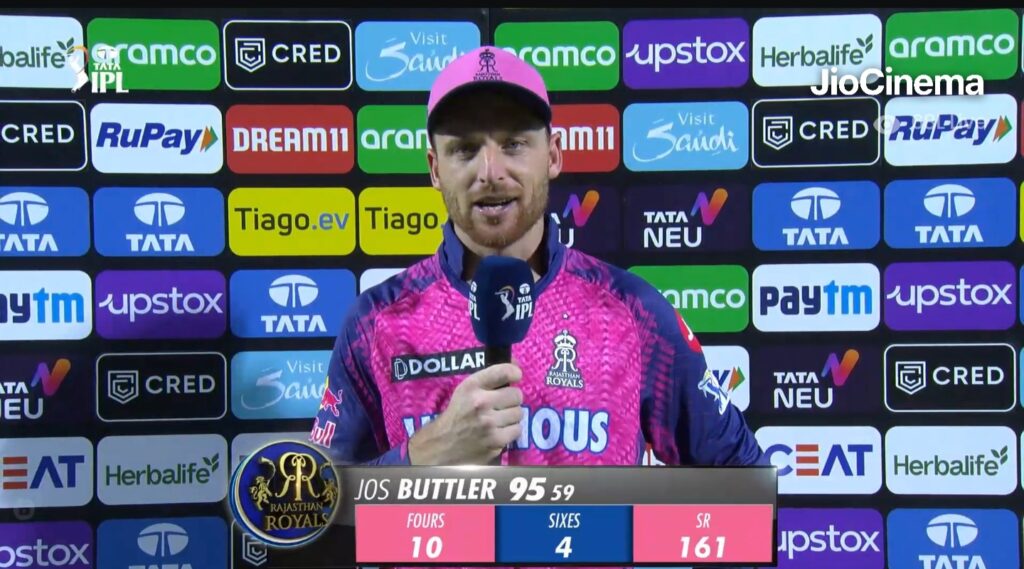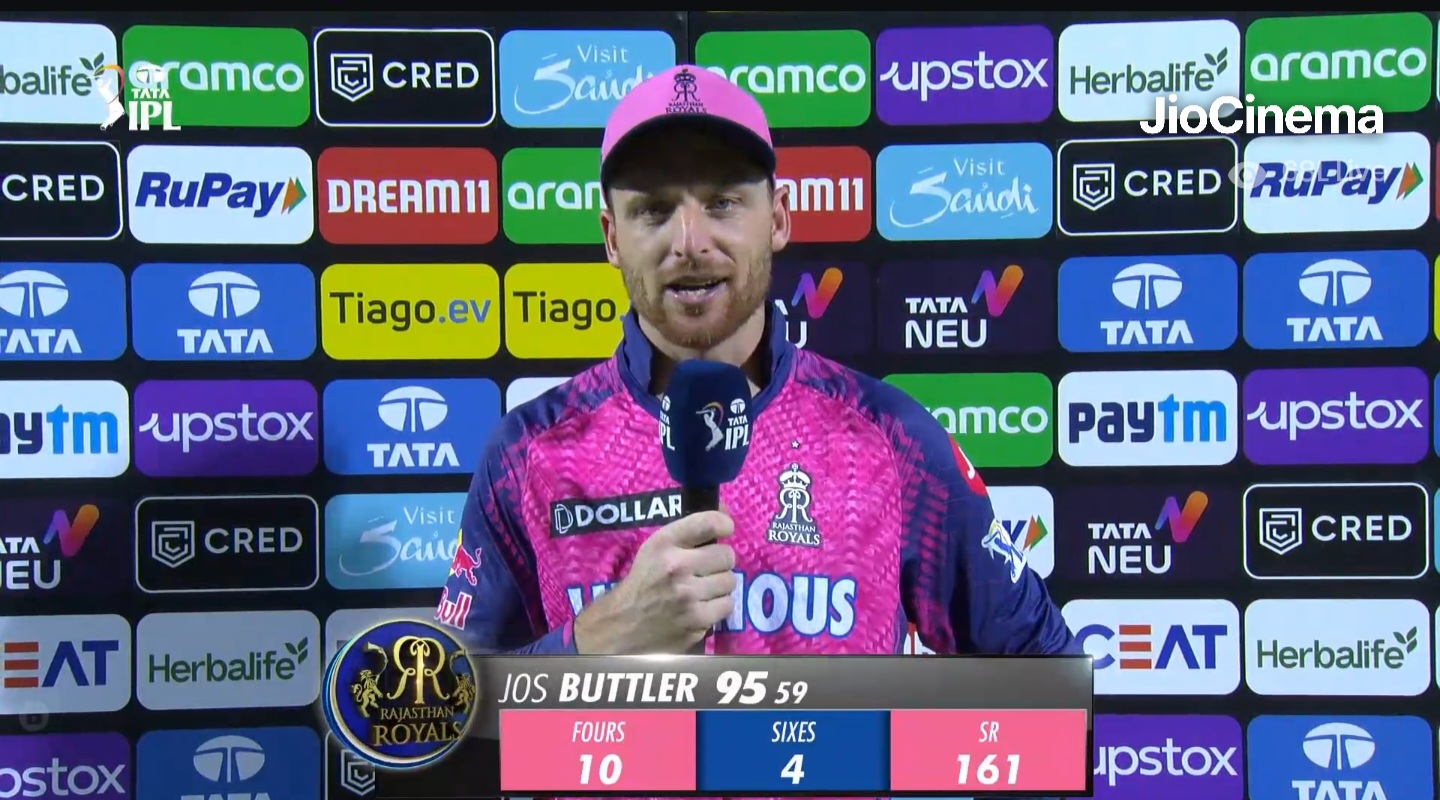 Buttler's dismissal was a huge blow for RR as he had been the backbone of their innings, scoring 10 boundaries and four sixes in his knock off 59 balls. His batting enabled RR to post a challenging total on the board, and his dismissal came at a crucial juncture in the match.
However, Buttler's reaction to the dismissal was a testament to his class and sportsmanship. He acknowledged the applause from the crowd as he walked back to the pavilion with his bat raised. His innings had been a treat to watch, and eventhough he missed out on a century, his contribution to the team's cause could not be understated.
On the other hand, Bhuvneshwar Kumar's bowling was exceptional throughout thematch, and his dismissal of Buttler was a highlight of his performance. He had been successful in keeping the RR batsmen in check and picking up crucial wickets at regular intervals.
Jos Buttler's dismissal for 95 by Bhuvneshwar Kumar was a crucial moment in theIPL 2023 match between RR and SRH. While it denied Buttler a well-deserved century,it showcased the skills of a talented bowler in Bhuvneshwar Kumar and thesportsmanship of a classy batsman in Jos Buttler.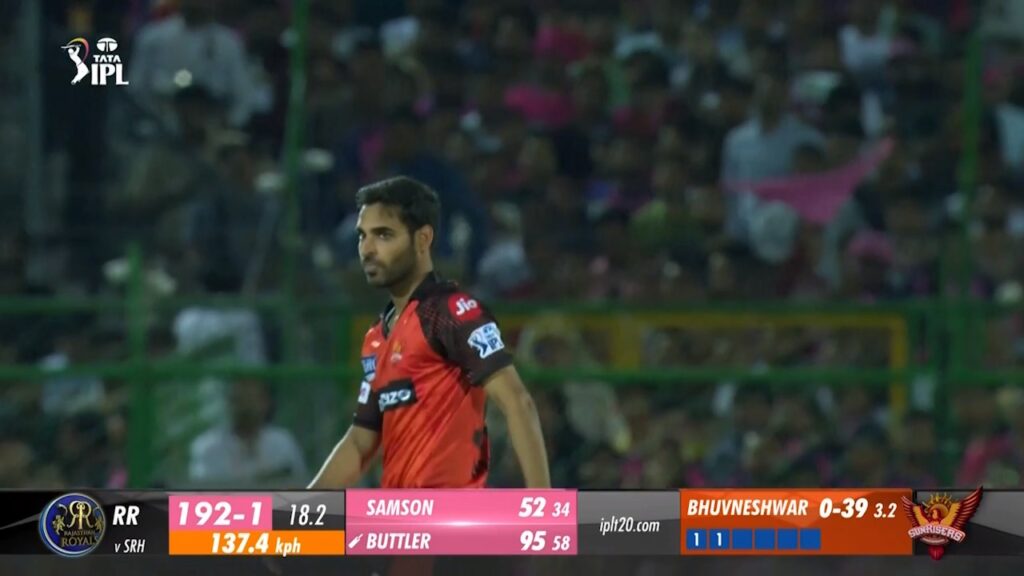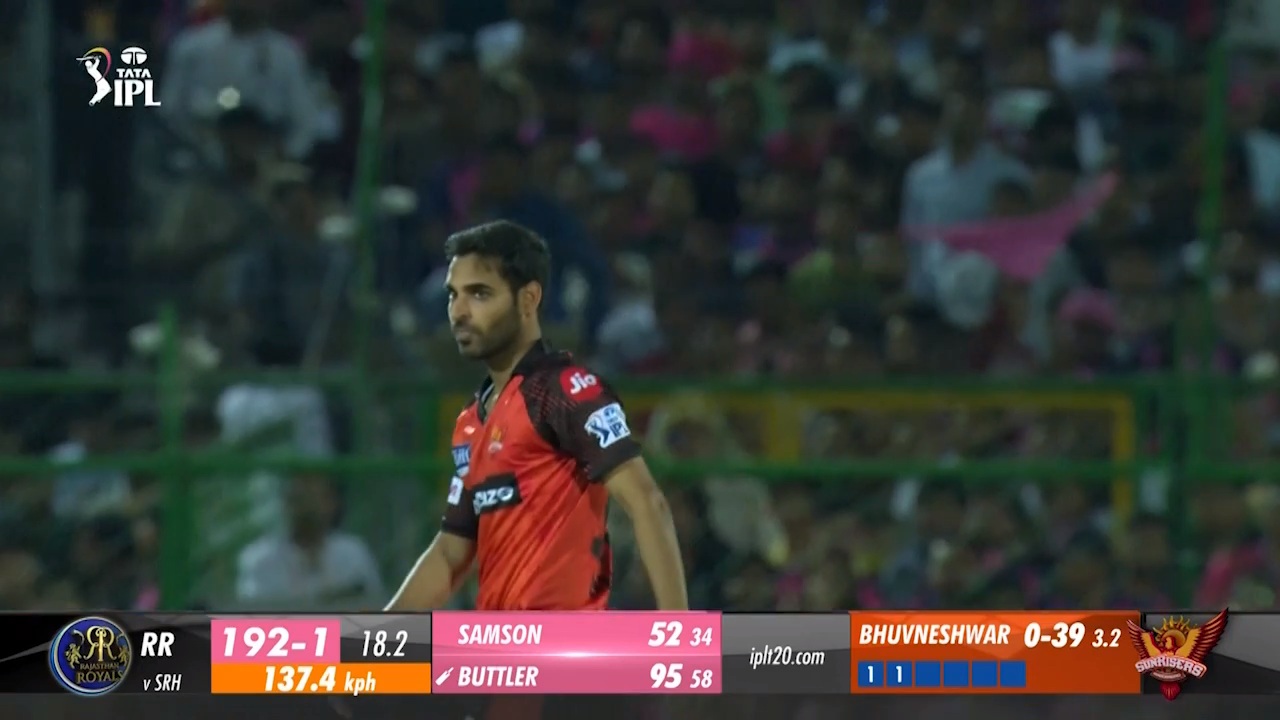 As the innings ended, SRH managed to limit the damage to some extent, but RR would still be pleased with the formidable total of 214 for 2. The return to form of Jos Buttler and the steady innings of Sanju Samson bode well for the team's future performances.
Buttler revealed after the match that he had decided to bat without ego and take his time at the start, a strategy that had paid dividends. He also spoke highly of Yashaswi Jaiswal's batting, which had allowed him to get a start bytucking in behind him. Looking ahead to the second innings, all eyes will be on Obed McCoy, who is expected to be the Impact Player for SRH.
Perfect yorker by Bhuvneshwar Kumar to end brilliant innings by Jos Buttler. pic.twitter.com/02kiQfJX69

— Cricket is Love ❤ (@cricketfan__) May 7, 2023
The pressure will be on him to deliver a strong performance with the ball and try to limit the run-scoring of RR. However, with a strong batting line-up and an imposing total on the board, RR will be confident of defending their score and securing a crucial victory in the IPL 2023.