Indian Premier League (IPL) 2023 has witnessed its fair share of ups and downs for the Mumbai Indians (MI), led by the talented Rohit Sharma. Despite a slow start, MI managed to secure a spot in the playoffs with the help of standout performances from players like Suryakumar Yadav and Cameron Green, along with favorable outcomes in other matches.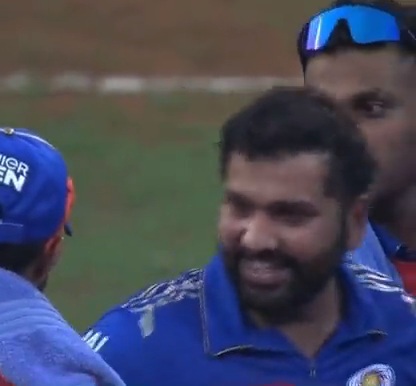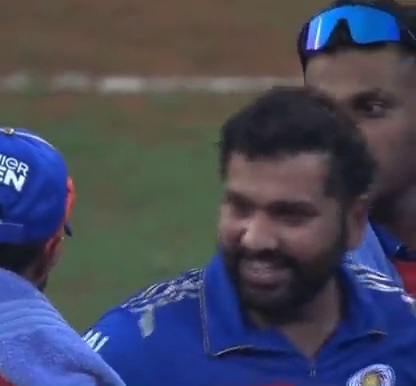 As the team prepares to face off against the LucknowSuperGiants in the Eliminator, a video featuring Rohit Sharma has gone viral on social media. In the clip, Sharma is seen attempting to drink water from a bottle, unaware that the cap is still firmly closed. Although he quickly realizes his mistake and removes the cap, fans wasted no time in seizing the opportunity to playfully troll the renowned Indian cricketer.
Social media platforms were abuzz with reactions to RohitSharma's bottle cap mishap. Some fans pointed out his laidback nature, often characterizing it as a defining trait of the MI skipper. Others jokingly remarked that Sharma lives in his own world, implying that such incidents are not out of the ordinary for him. The incident sparked a humorous exchange of comments among cricket enthusiasts, with various Twitter users expressing their amusement.
Here are a few examples of the reactions on Twitter:
"Dhakkan khol na bhul gya ab 😂😂 Bhau khushi me paglagaya hai 😂"
"Laidback as ever. Classic Rohit 😂"
"This man is a gem 😂"
"Rohit Sharma se zyaada bhula hua Aadmi maine aaj tak nahidekha.. jitni chize Rohit Sharma bhulta hai… Hence proved again 😂💙"
May 22, 2023
This man is on just another level of forgetting 😂 https://t.co/wcH8Qw7Jhk

— Harsh Kumar (@Imharry1218) May 22, 2023
Vadapav kaha hai. Pani kyu de rha hai.

— KAPIL DEV TAMRAKAR 🇮🇳🚀 (@kapildevtamkr) May 22, 2023
He is an opener but he can't open the bottle.🤪

— rahul khatri (@rahulkharti) May 22, 2023
Iss baar Rohit bhai dhakkan nikalna bhul gye 🤣🤣😭 pic.twitter.com/UZFINqXASc

— 🆂🅰🆃🆅🅸 🅵🅰🅸🅻 (@HiTechHumour) May 22, 2023
World's best opener didn't knew to open a bottle cap😂

— Abhiram (@itzabhiram) May 22, 2023
Rohit be like pic.twitter.com/8Tf011g23W

— VUSport Official (@VUSportOfficial) May 22, 2023
While these comments were made in a lighthearted manner, they serve as a testament to Rohit Sharma's popularity and the playful banter that often surrounds his on-field antics. Despite the light-hearted trolling, Sharma's abilities as a cricketer and his contributions to the Mumbai Indians cannot be overlooked, as he has been instrumental in their success throughout the years.
The Incident of Rohit Sharma forgetting to open a bottle cap before drinking water has become a source of amusement for fans on social media. However, it is important to remember that these moments are part of the larger narrative of Sharma's illustrious cricketing career, where his leadership and skills have consistently made him one of the most respected cricketers in the game.