Lucknow Super Giants player Naveen Ul Haq is undoubtedly one of the most hated cricketers in the world right now. His feud with Virat Kohli has really turned half of the cricket community against him and people are asking him to put some respect to the GOAT.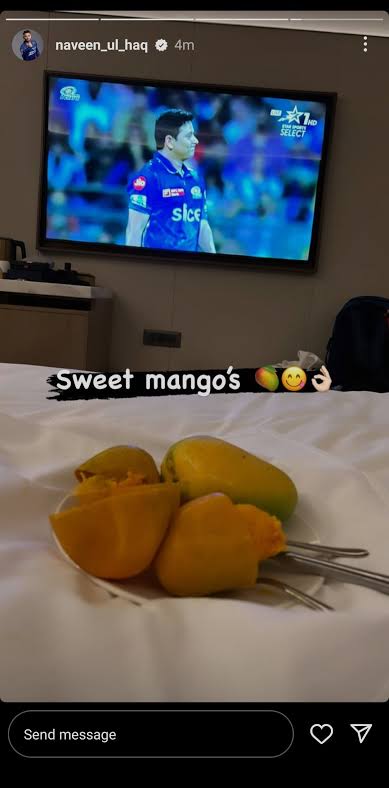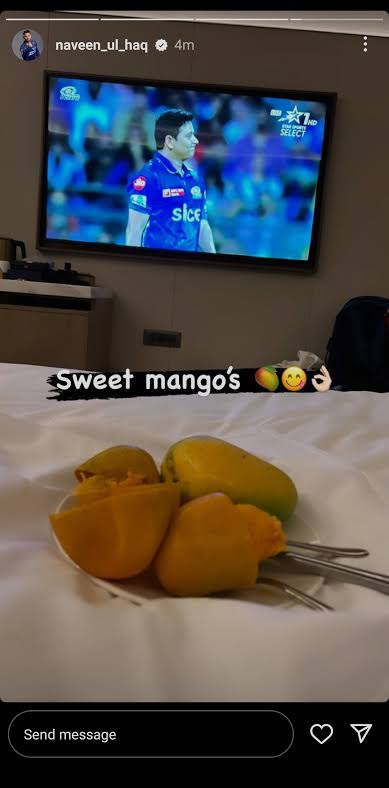 In the last match between Royal Challengers Bangalore and Lucknow Super Giants, things got very heated between Virat Kohli and Gautam Gambhir and Naveen Ul Haq was at the center of the altercation.
He had allegedly abused Virat Kohli and started instigating him even during the match. Gambhir and Kohli's relations are already very poor and they got the reason to commence a fight yet again after that match.
However, Naveen Ul Haq took things outside the field too. He constantly poked fun at Virat Kohli and Royal Challengers Bangalore through his Instagram stories since that day. Most recently, he did that after Royal Challengers Bangalore's defeat against Mumbai Indians.
While watching that match, Naveen Ul Haq posted a picture of a plate of mangoes in front of the television where he was watching the match. He gave the caption "Sweet Mangoes". A few hours later, when MI needed just 8 more runs to win, he gave a story with mangoes again saying "Round 2 with these. One of the best Mangoes I've ever had".
This was clearly done to poke fun at RCB. However, now that the Mumbai Indians have eliminated Lucknow Super Giants from the Eliminators, some of the Mumbai Indians players have taken a dig at Naveen Ul Haq in return.
Sandeep warrier insta post 🤣🤣🤣🤣🤣 pic.twitter.com/l67YBuUvdL

— Sins popa (@sinspopa78) May 24, 2023
The guys(warrier,vinod) who don't have place in playing xi trolling naveen who picked rohit,green,sky,tilak 🤭😂🤣 https://t.co/ju4XnnR8MD

— Prince Siva Swarna🦁 (@sivaswarna2) May 24, 2023
What goes around, comes around 🥭

📸: Star Sports pic.twitter.com/doo1lFIYQ7

— CricTracker (@Cricketracker) May 24, 2023
He posted a pic of three of his teammates doing his celebration in front of a plate of mangoes with the caption "Sweet season of mangoes" on his Instagram. He later, however, deleted the post. But the fans were quick enough to spot it and praise him for bodying Naveen Ul Haq.