The ICC cricket World Cup us in full flow already. The top notch cricketing nations from all across the world are getting a chance to prove their worth by battling it out on the biggest stage yet again. The tournament so far has witnessed several noteworthy moments on and off the pitch.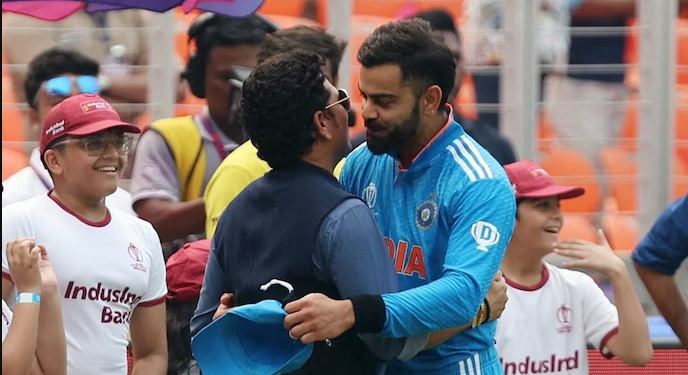 The fans also have got to see some absolutely brilliant quality of cricket in this edition of the World Cup. Amidst several incidents that took place so far in the event, one that drew a considerable amount of attention from everyone was that of Sachin Tendulkar's cheeky response to Shoaib Akhtar on Twitter.
The game ended up to be a totally one sided one with India registering a dominant win over their arch rivals yet again in the World Cup stage. The intensity of the India Pakistan rivalry made the match an even more anticipated one for everyone. It was due to the high anticipations that several renowned former players made their views clear with respect to what they expected from the match.
Shoaib Akhtar too took it to his Twitter account to let people know about his views on tomorrow's game. He made a tweet posting his pic when he had dismissed Sachin Tendulkar in a test match with the caption "Kal agar esa kuch kerna hai toh #ThandRakh".
In response to this Sachin Tendulkar quoted Akhtar's tweet and added his own reply to it that read "My friend apka advice follow Kiya aur sab kuch bilkoool thanda rakha….". In this way Sachin mocked Sohaib's pre match expectations from his side. Pakistan's defeat paved the path for their supporters to be proved wrong on the social media.
To talk about the game India totally outplayed Pakistan on all aspects. The bowlers dismantled Pakistan's batting at first. This was followed by India chasing down a modest total of 192 with around 20 overs remaining. Rohit Sharma was the main man for his side as he didn't let Pakistan stand a chance with his breezy knock of 86 off just 63 balls.
The hian continued his fine form vs Pakistan that he had gained against Afghanistan. Following this win, India are now at the top of the table with a net run rate of +1.8 and 6 points to their name in 3 matches so far.