The ICC cricket World Cup 2023 has begun with a great deal of pomp and show already. The tournament that provides all top notch cricketing nations from all across the world to prove their worth on the biggest stage has arrived once again for the first time since 2019.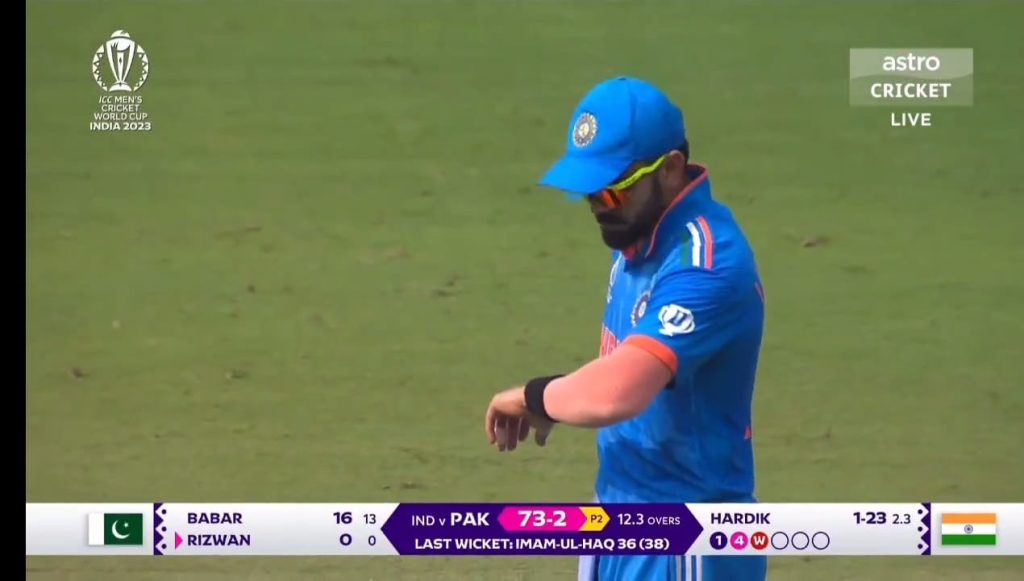 The tournament so far has been an absolute sensation for the fans who were desperately waiting to experience some serious but of cricketing action. Amidst several interesting moments that have taken place, one particular incident during the highly anticipated India vs Pakistan match at Ahmedabad.
Pakistan after having lost the toss were asked to bat first by India. The team had a good start with the bat as Imam and Shafique began in fine fashion for their side. The openers put on some quick runs, but Indian bowling eventually managed to get rid of both the batters before each of them managed to put up a big individual score by themselves. It was in the 1st ball of the 13th over than Hardik Pandya dismissed Imam Ul Haq who edged the ball behind to KL Rahul at the score of 36.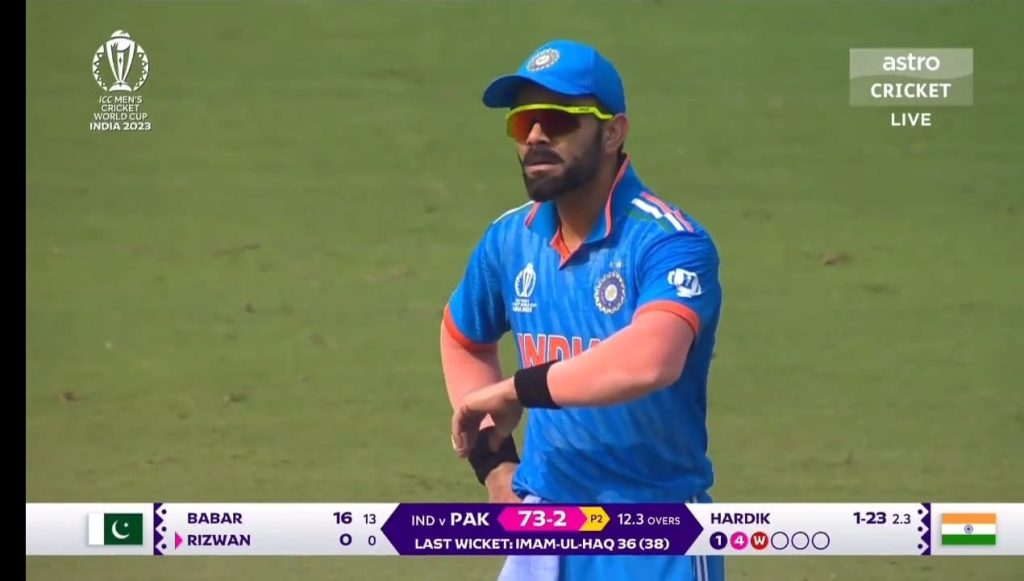 Following the second wicket, Mohammed rizwan who was supposed to come in at no.4 next took way too much time to arrive at the crease. Virat Kohli who was annoyed at this tried to have a discussion with the umpire with regard to the amount of stipulated time that is supposed to be given to the next battery.
The no.18 however came up with a humorous way to give vent to his expressions. Virat tried to point out the time by looking at his left wrist and then towards the crease so as to mock the batting side for having taken extra time to arrive after the fall of the previous wicket.
To talk about the game, Pakistan were absolutely outplayed by the hosts who did extremely well with the ball in the first innings. The Babar Azam lead side was bowled out for just 191 in 42.5 overs. Babar Azam was the highest scorer for his side with 50 off 58 balls. Bumrah, Siraj, Pandya, Kuldeep and Jadeja were amongst the wicket takers as all of them picked a couple of wickets each.