Stuart Broad who has been quite outstanding so far in this Ashes series made his mark with the ball in hand yet again. The pacer did the trick with the new ball once more as he sent back David Warner early on in the second innings thereby providing England with an early breakthrough, something which the hosts were in desparate need of.
The mode of dismissal was pretty much similar to what it was in the first innings.A sizzling out swinger kissed past the outside edge of Warner's bat and went flying into the slips where Zach Crawley did his part by grabbing it safely.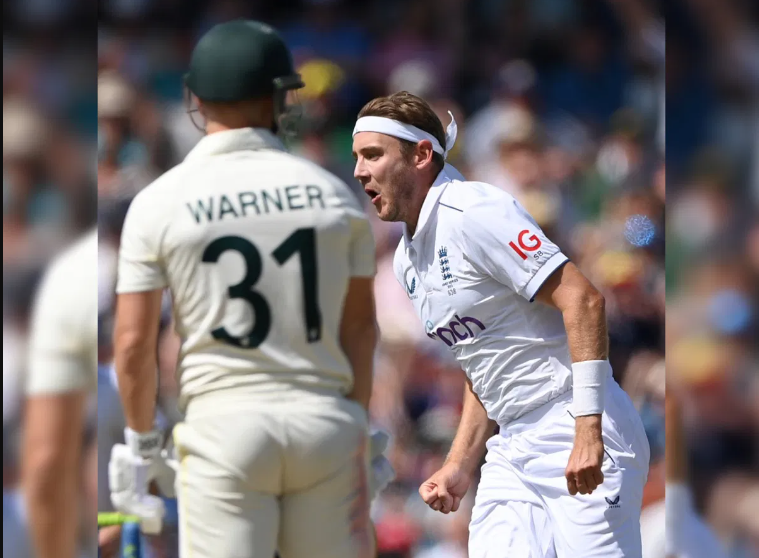 This was the seventeenth time that Broad has dismissed Warner in tests taking him a bit closer to an impressive feat set up by Australian legend, Glenn McGrath. The former Australian cricketer had dismissed England's opening batsman Mike Arterton 19 times in his test career. Stuart Broad shall be equalling the record if he manages to fox David Warner two more times hereon.
Initially Australia after being put into bat first in the 3rd test were bundled out for 267 runs with Mithcell Marsh (118) top scoring for his side. England in response failed to deliver a quality performance with the bat as they managed only 237 runs. Ben stokes continued his fine run of form as he played a flamboyant knock of 80 runs to keep his side afloat against the odds.
Despite England trailing the series by 2-0, Stuart Broad has been doing a fairly good job for his side. He has picked an impressive 14 wickets so far in the Ashes and looks in fantastic rhythm right from the early stages of the innings. The Englishman has shown no signs of slowing despite being 37 years old. It remains to be seen as to whether he's able to continue his fine performances and initiate a turnaround for his side in the remainder of the series.